Up-Close Dining at Shamu Stadium - SeaWorld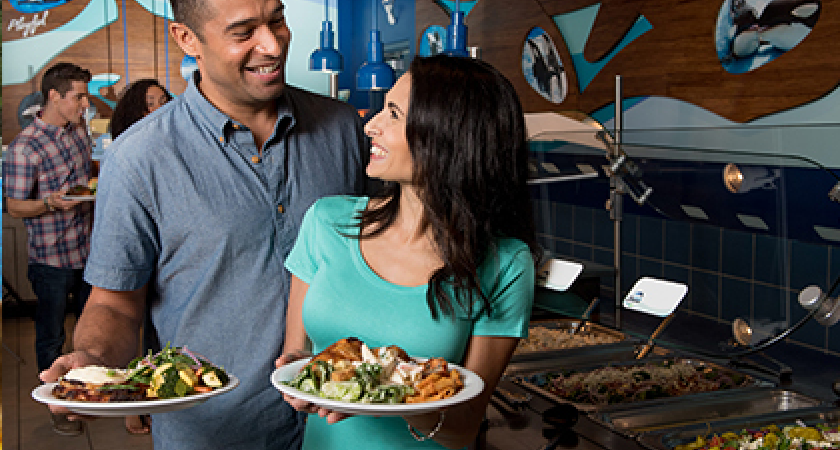 About Up-Close Dining at Shamu Stadium - SeaWorld
It's Orlando's most immersive and memorable family dining experience: Up-Close Dining at Shamu® Stadium.
Dive into Orlando's most immersive and memorable family dining experience. Dine next to our resident pilot whales and as you hear the story of their incredible rescue and watch the specialized care they receive daily in their forever home. Following your meal, you'll get an up-close view into the relationship shared between our trainers and killer whales as you discover the unique characteristics of these majestic animals. Throughout your experience, you'll learn about the small yet impactful measures we all can take to help save valuable ocean resources by enjoying sustainable foods and preserving natural habitats.
Dine with Shamu & help UK Wildlife!
For every Dine with Shamu experience booked, $2 will automatically be donated to UK wildlife charities.
PLEASE NOTE: If you have an infant (any child under 2 years of age) attending the Up-Close Dining at Shamu Stadium experience you MUST call us to advise. Failure to do so may cause your booking to be cancelled in resort. Please call us on 0871 700 8888.
SeaWorld and Busch Gardens have been leaders in the care of animals, conservation research and animal education for over 50 years. In 2003 the non-profit foundation SeaWorld & Busch Gardens Conservation Fund was established to help people make a difference to wildlife in need.
Since its conception the fund has awarded over $11m in grant funding to over 800 organisations across the globe. As a non-profit foundation with the administrative support provided by SeaWorld Parks, 100 percent of money raised goes towards conservation projects.
For every purchase of SeaWorld Parks Extras, SeaWorld Parks & Entertainment will donate $2 to specifically help UK wildlife charities, researchers and biologists make even more of a difference.
Have fun, learn, do something unforgettable and help make a difference.
For more details, follow this link: www.seaworldparksfun2fund.com
Conditions
Park admission is not included and is required.

Up-Close Dining at Shamu Stadium is subject to availability.

Lunch start time will usually be at 12:30pm, your confirmed time will be stated on your e-ticket. Check in at the Information & Reservations Counter by 11am to reconfirm your dining experience. The Dine with Shamu Lunch experience has to be taken on the date specified on your e-ticket.

Photo ID required. Food service – all you care to eat private buffet. If the guest is concerned about food allergens please ask them to mention this at time of calling for dine time.